Skip to Content
Experienced Divorce Attorney in Kaysville, UT
Divorces, Property Division, Custody, & More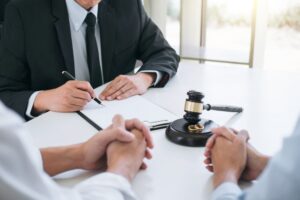 Going through a divorce can be a very stressful time, and you need an experienced and aggressive divorce attorney on your side. Don't take any chances; hire the best divorce attorneys at Murphy & Murphy Law in Kaysville, UT. Nobody likes the divorce process, but it's common and often necessary. Our experienced divorce attorneys understand how emotional a divorce can be, especially if you have children. We offer full-service legal representation to walk you through the divorce process, including matters of paternity, custody, guardianship, adoption, property division, and more. Our lawyers are compassionate and understanding when it comes to matters of family law. We'll give you the legal advice you need and the peace of mind to ease your worries. We would be happy to offer you a free initial consultation, so get in touch with us today.
A Smooth Divorce Process
A smooth divorce may sound like an oxymoron, but our attorneys can make it as easy as possible. A divorce is one of the most dynamic and emotional events you can go through. Our divorce attorneys know how challenging and awkward it is to share your intimate financial and family details with us. We do our best to make you as comfortable as possible, from your initial consultation to modifications to your post-divorce agreement. When you want the best divorce lawyer in Utah, contact Murphy & Murphy Law.
Property Division, Protective Orders, & More
No two divorces are alike. That's why our divorce services are customized based on your needs. We start by filing legal paperwork to begin your divorce process. We may need to file a temporary court order regarding spousal or child support, visitation rights, or custody. We may also need to file a protective order if your relationship has a history of domestic violence. From there, our team will look at the assets and debts you have, including those obtained during your marriage. It may be difficult, but please be honest and upfront about your finances. We might need your pay stubs, tax returns, bank account statements, or medical records to help build your case. We can also help you uncover the truth if you suspect your spouse of hiding assets or property. Our divorce attorneys deal with every aspect of your divorce, including:
Contested divorces
High-asset divorces
Child custody & visitation
Child support
Property division
Spousal support
Modification of child support or custody
Uncontested divorces
Enforcing custody orders
Skilled Negotiators You Can Trust
When searching for a divorce attorney near me, you'll want a team of skilled negotiators to fight for what you deserve. Settling divorce agreements outside of court can be beneficial, but it isn't always possible to do so. Our law firm will represent you in the courtroom or during the negotiation period. We're here to protect your rights and ensure all agreements or court orders are enforced on your behalf.
Divorce Service Modifications for Changing Circumstances
After your divorce, the court will provide a judgment and dictate multiple orders to be followed by the involved parties. When circumstances change, those court orders might need to be modified. Our attorneys can re-file or litigate your post-judgment motion in court. We represent our clients long after the divorce process has been finalized.
Helping You With Your New Beginning
For many Utahans, the end of a marriage can serve as a new beginning. While some divorces are amicable, others tend to involve high levels of conflict. We know that every family and divorce is unique. We want to help you make the best of your circumstances and protect the interests of you and your children.
Schedule a Divorce or Separation Consultation Today
The skilled divorce attorneys at Murphy & Murphy Law have over 25 years of experience. We serve families and individuals in Kaysville, UT with all areas of divorce. Our legal team would be happy to discuss your legal options with you and help you feel confident in your decision during an otherwise stressful and emotional time. Contact us today to schedule your free initial consultation.